Darjeeling Singalila Ridge Trek is most classic adventure treks in the Himalaya and one of India's best trekking destinations, without a doubt. the world's 14th highest peak of majesty mount kanchenjunga including Mount Everest family landscape, wildlife, people, and every other bit of the experience make Singalila unique and lovable.
The Darjeeling Singalila Ridge Trek! Just two hours from the city, the wonderful path begins. Though not a far drive from the city, the trail seems like it is in the middle of nowhere, as you traverse from ridge to ridge. The scenic Singalila Ridge connects the grand Himalaya of Nepal to India. The highlight of the trek is walking this ridge to Sandakphu (3636 meters/11,929 feet), the highest point in West Bengal, where you get jaw-dropping views of the highest peaks on the planet.
Rise from your peaceful slumber at Sandakphu and make a short climb to a viewpoint. From here, see Mount Everest (8848 meters), Kanchenjunga (8586 meters), Lhotse (8516 meters), and Makalu (8481 meters) in all their glory. It is truly one of the best, if not the best mountain view in India. Where else can you see 4 of the 5 highest peaks in the world in one sweeping view.
The splendor does not stop. Trek From Sandakphu to Phalut, the mountains remain with us. In fact, the view from Phalut is nearly as mesmerizing as the day before. The barren open area gives way to an exposed viewpoint of the majestic snow-capped peaks. In Phalut, we stay in a trekker's hut, face-to-face with the grand Himalayas. From Phalut, we trek through the picturesque scenery of Gorkhey and Timburey before getting a ride back to Darjeeling. In Darjeeling, we take you on an awesome day tour of the city's cultural attractions and top it off with a delicious dinner.
Every night on the trek (except at Phalut), we stay in teahouses owned by local families.This is one of the most memorable parts of the trek. Learn about the culture and individual families that run the lodges. At the homestay in Timburey, learn how to make momos and other traditional local favorites!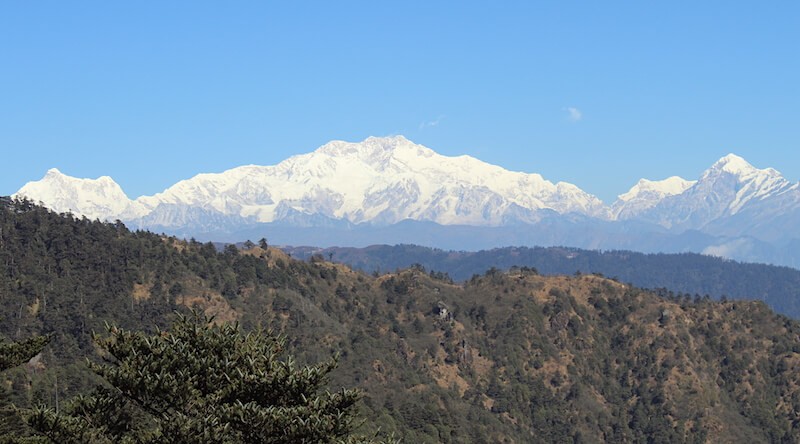 Mt.Kanchanzonza View seen from Sandakphu
---