Booking and Payments:
Booking terms and condition refers to the special binding agreement between Ashmita Trek and Tours and the client. It is important in the business system to conduct such a procedure. For both of our benefit, it is best to know and understand the terms of our mutual agreement before booking a trip. The terms are a set of regulations that the client must agree to follow to use online services.
To confirm your place in a scheduled Fixed Departure trek or a Private trek and tours we require 30% advance for Darjeeling and Sikkim trips and 50% advance for Nepal and Bhutan your total cost of your tours advance payment can be made online via left bank transfer net banking Credit/Debit card. and the remaining balance is payable 15 days before your trip's denatures trek date. If you book the trek 15 before lass the trek date you need to pay the full amount of the trek fee
FOR INDIAN RESIDENTS
There are two options, you could choose whichever is convenient to you.
1. UPI: The fastest and simplest way to pay.
- Or scan the QR CODE below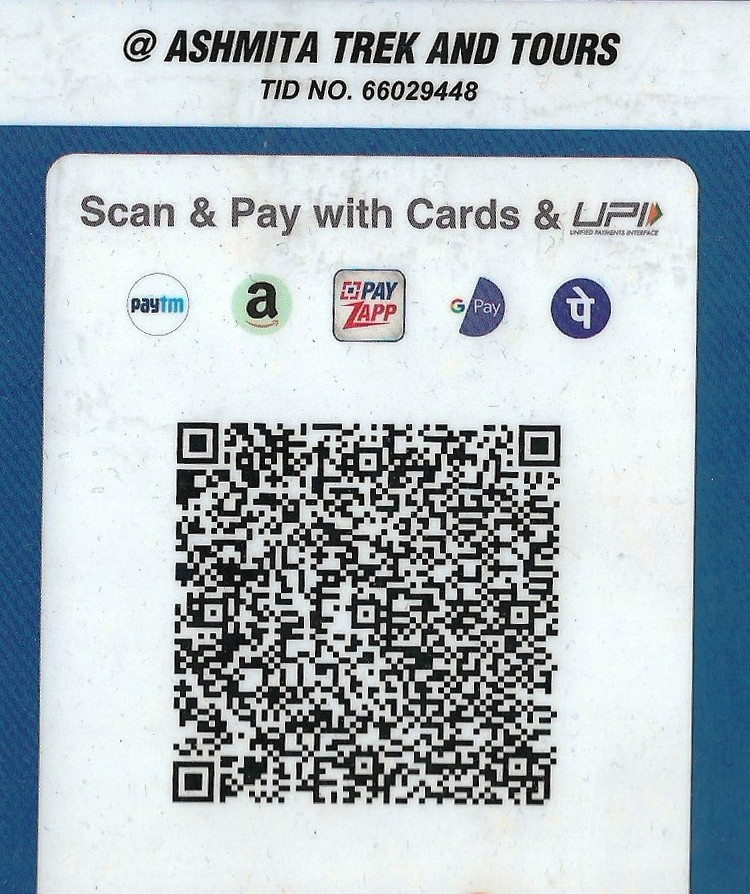 2. NEFT / RTGS / IMPS: Transfer money to either of our Bank Accounts mentioned below -
Bank Transfer details :
Name of the Bank: HDFC Bank
Name of Account Holder: Ashmita Trek and Tours
Account Number: 50200056347672
Account Type: Current Account
RTGS/ NEFT/ IFSC Code: HDFC0000454
SWIFT Code: HDFCINBB
Paying Bank Name: HDFC Bank Darjeeling Branch
Bank Address: LADEN LA ROAD, RINK MALL-OPP GPO, DARJEELING WEST BENGAL - 734101
Bank Code: 0454
PIN Code: 734101
FOR PEOPLE RESIDING OUTSIDE INDIA
1. TRANSFER WISE: https://wise.com/
An online service which is the least expensive way to send money. You would need to follow the details to make the payment
2. WIRE TRANSFER:
Payments can be sent by bank transfer (immediate crediting/telegraphic transfer) to our account stating the purpose of remittance. The bank charges would be borne by you. Wire transfer can be done in various currencies (routing instructions below) Please note that the routing instruction is currency wise, therefore the remitter has to follow the instruction depending on the currency in which funds are to be transferred.
Bank Transfer details :
Name of the Bank: HDFC Bank
Name of Account Holder: Ashmita Trek and Tours
Account Number: 50200056347672
Account Type: Current Account
RTGS/NEFT/IFSC Code: HDFC0000454
SWIFT Code: HDFCINBB
Correspondent Bank Account Name: HDFC BANK LTD MUMBAI
Note: There is no separate SWIFT code for individual bank branches. The above-mentioned HDFC Bank Swift code can be used for remitting funds to HDFC bank anywhere in India
Some banks might also ask for a purpose code for making an international transfer. The code to be used is - 'P0306' - Other Travel Receipt.
Balance payment :
The remaining balance can be made before one week your trip departure be mindful, or on arrival balance, amount client can pay by Visa or Master Card and a 4% levy will be added for the card processing bank fee. and 5% GST applicable
Passport and Visa :
An international client must be ensuring to have a valid passport, visa, and domestic client have must bring their valid ID proof while traveling with our company. The company is not responsible for any incorrect or invalid DOCUMENTS if you do not allow passing the country or refuse to enter into places due to such reasons.
Travel Insurance :
Travel insurance is mandatory for all clients. Before the client commences a tour he or she must arrange his or her insurance with a reputable insurer, with protection for the full duration of the tour, to cover personal injury, medical expenses, emergency helicopter expenses, repatriation expenses, loss of luggage, and the expenses associated with cancellation or curtailment or a tour. If a client becomes ill, all hospital expenses, doctor's fees, and repatriation costs are the client's responsibilities and the company shall not be liable for any refund of the tour cost.
Health and fitness :
All tours and treks in Darjeeling and Sikkim demand a sufficient level of fitness, therefore you should check with your doctor concerning your health and fitness before preceding with your journey. If you have any pre-existing medical condition or disability you might increase the risk of you requiring medical attention you need to inform to Ashita Trek and Tours. this may also hamper your ability to travel.