Read Review
Sandakphu Trek in Darjeeling
Great experience!!! We were on the 4-day Darjeeling Sandakphu Trek with Ashmita Trek and Tours our amazing guide Sangay, who is extremely knowledgeable, fun, and kind!! 
I was quite sick at the beginning of the trip (caught a cold before the trek) but our guide adjusted the pace, offered me warm water bottles, banana shakes (because I had diarrhea), and did everything to make me more comfortable and recover faster! Thanks to him, I was able to recover over one night and enjoy the rest of the hike.
Because the monsoon season was starting, it was cloudy for many days so we were not fortunate enough to see the view of Kangchenjunga and Everest. However, our time with our guide made this tour very worth it!!
Highly recommend Ashmita Trek and Tours and thank you to our guide Sangay!
Best regard
Risa Shindo (Japan)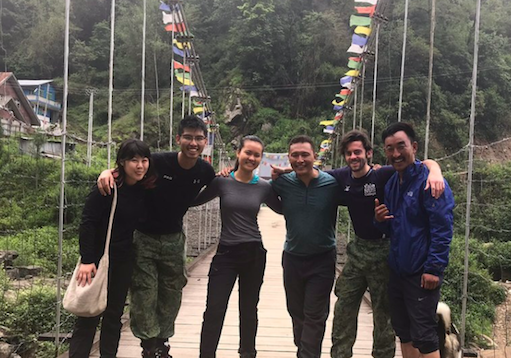 Trekkers are enjoy with our team 
Goechala La Trek in West Sikkim
Fantastic trek with a great company that took us to mighty snow capped mountains with breath-taking views of Mt. Kanchenjunga.
Subash and the team at Ashmita deserve the 5 star rating. We have trekked in Nepal, Kashmir and Ladakh over the years and this was the most professional and best organised trek we have done.Sunjay our guide was very skilled, knowledgeable, helpful and flexible which was really needed as our trip plans had to change several times due to bad weather. Nothing seemed a problem for him. If we were going back we would him again.Tenzing the cook was not only the master of preparing great food but such variety that we never ate the same meal twice in 12 days. Plus he added an extra laugh to the trek. In fact the whole team was top class.Not enough room here to describe the rich variety of scenery and the beauty of these mountains but we will remember this trip for a long time. Thank-you Asmita Treks.
Mary-Anne and Bernard
Australia
Goecha-La Trek with Ashmita Trek and Tours in May 2019
We have just returned from a fantastic trek organized by Ashmita Trek and Tours to Goecha-La Viewpoint 1. We walked for nine days (eight nights sleeping in tents) and were a group of 8 friends. The full trip included the flight from Delhi to Bagdogra, transport by road to Yuksom at the beginning of the trek, and a short two-night stay in Darjeeling at the end. Our stay in Yuksom, one night each at the start and end of the trek, was at the lovely Ejam Residency (highly recommended!).
This was a trip of a life-time! Ashmita is led by Subash, who was excellent in getting things organized before, during, and after the trek. He spent a lot of time with us and took great care of the logistics of the trip. We traveled with a staff of ten people (cook + helpers, horse-men, etc.) and eleven horses, led by our superb guide Sangay (Kunzang Sangay Bhutia). He's a gem! He looked after us all, paying specific attention to who needed what. He is also very knowledgeable about the area and a good communicator. The trek itself was quite demanding for us all, but the views, the scenery, and the unspoiled environment in which we walked and lived was breathtaking. Two highlights were the climbs to Dzongri top to catch the sun's first rays on the mountains, and finally the even earlier hike in darkness to viewpoint 1 to see the same much closer. The trek took us through a lot of varied terrain. It started in sub-tropical lush forest, then into spectacular rhododendron groves, and finally in shrub country with many views of the high mountains. Mount Pandim, was especially close to our right all during the walk from Thansing to Lamuney and up to view point 1. The staff took great care of us; the food was plentiful and excellent.
Himalayan Singalila Ridge Trek 9 Days
We have just completed our trek with Ashmita Trek and Tours. From our first inquiry via the Internet, in January to the trek itself, the company and service was well organised and fulfilled all promises.This was our first Himalayan Trek experience and our guide, Binod, was professional, knowledgeable, kind and took great care of us. We trusted his expertise and appreciated the way he made sure our rooms were suitable and food to our liking. He gave us so much information about the region and spoke very good English. The accommodation in homestays was such a highlight and provided a wonderful cultural experience where delicious Indian and Nepali food was cooked fresh, often with ingredients from the family gardens. Teahouses welcomed us in and gave us refreshing tea along the way.We were in awe of this incredible part of the world and although the weather was often misty, were treated to fine weather in Phalut and saw a full 180 degree view of Mt Everest, Kanchenjunga, Lhotse and Makalu. Highly recommend this company.
Singalila Ridge
We did the 9 day trek with Dawa Lama as guide and Phu-Tshering Bhutai as our High Altitude Friend. We had amazing views and real luck with the weather. But this would have been a lesser experience without our fantastic guide and HAF. They both were so helpful without being over attentive. We found out so much about the people and language which made for a much richer experience. Can't wait to come back. We started planning a return visit later in the year even before we left Darjeeling! I have lived in Asia for almost 20 years and have had the fortune to do quite a bit or trekking in the UK, Europe in general, China etc. But this was one of the very best. Spectacular mountain views and lush, colourful forest.
Note: when not walking in the morning and evening it can get pretty chilly so bring a decent jacket and inner wear!