Read Review
Amazing trip!!! Best guide and porter
We did Goecha la trek in Sikkim this April 2019 This was really sentiment to just how good the service is that from Ashmita Trek and Tours provides. Through the different packages and costs, and they are extremely good in offering the best price that was appropriate to our needs.
Subash the owner of Company kept in touch and communicated with us throughout the entire journey, checking up on us to make sure we were Ok. Our guide Dawa lama and porter are extremely helpful and friendly after our Goechala trek, we booked Sikkim Authentic Cultural Tour through Subash again, this was another great trip.

I would whole heartedly recommend Ashmita Trek and Tours, and will definitely return to Sikkim one day with my family,
Thank you Subash we wish you every success in your the future of your business.
Regards
Jessica
Best trekking company in Sikkim
Unforgettable Goecha la trekking experience not just because of the breathtaking
sceneries is a flora and fauna. also thanks to the perfect and truly personalized
approach from Subash the owner and his company Teams. We didn't need to worry
about anything during our trip, everything was organized for trekking equipment necessary and looked after. We truly had the best time in our lives, highly recommended to anyone to visit Sikkim Himalaya .
Thank you so much Subash, can't wait to go to Everest Base Camp Trek in
Nepal next year with you.
David
Great route and knowledgeable guide
We had a great time on our one-day trek with our guide Tenzing. He was very knowledgeable about the region and took time to explain the flora and the places we visited. Even though it was during low season and quite foggy, it was quite enjoyable as the temperature was refreshing and the paths were mostly empty. It was such a pleasure to hike from a forest to the edges of the mountains then through pastures and quaint villages. The only comment I would have is that the food provided on the trek was very basic in comparison to the price we paid. I was expecting a bit more than instant noodles and flat bread, but then it might be because of scarcity of food at the summit. In any case, we had a lovely day and thoroughly enjoyed our trek with Tenzing.
Sandakphu Trek in Darjeeling
Great experience!!! We were on the 4-day Darjeeling Sandakphu Trek with Ashmita Trek and Tours our amazing guide Sangay, who is extremely knowledgeable, fun, and kind!! 
I was quite sick at the beginning of the trip (caught a cold before the trek) but our guide adjusted the pace, offered me warm water bottles, banana shakes (because I had diarrhea), and did everything to make me more comfortable and recover faster! Thanks to him, I was able to recover over one night and enjoy the rest of the hike.
Because the monsoon season was starting, it was cloudy for many days so we were not fortunate enough to see the view of Kangchenjunga and Everest. However, our time with our guide made this tour very worth it!!
Highly recommend Ashmita Trek and Tours and thank you to our guide Sangay!
Best regard
Risa Shindo (Japan)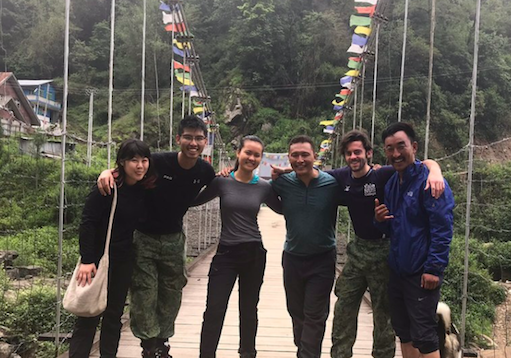 Trekkers are enjoy with our team 
4 Day Sandakphu Tea House Hike
Just finished the 4 day trek to Sandakphu with Ashmita Trek and Tours and it was a wonderful, wonderful experience!

Our guide Sangay was extremely experienced and took care of us throughout everything. We had three of the four of us down with a stomach indigestion thing during the duration of the hike and the weather was not great (real rainy and misty sadly) but we survived it because of Sangay's immaculate guidance and care.

He brought bread, jam and popcorn to ensure we had enough safe food to eat during our overnight stays. He went at a pace that was challenging but also ensuring our conditions were okay. He also has lots of stories and insights to share that made the hike very enjoyable and entertaining!

Even though we did not get to see Kanchenjunga or the Himalayas range because of bad weather, we still enjoyed ourselves immensely. I would love to return another year in early May or in October, when the weather is clearer!