Trek the Himalayas with a fully trusted and government certified team for the quality services and experience the majesty of the world's tallest mountains on a bucket-list adventure!
Ashmita Trek and Tours is a local based company founded and managed by an enterprising local Mr.Subash Tamang who have spent many years in this tourism business and worked as a trekking porter and guide in the Himalaya region before establishing the company,
We are an eco-accommodating travel and trekking organization and have strived to give the best experience for our customers, as well as for local people since our beginning in 2007. Our prosperity is the result of broad research, cautious arranging, and usefully tuning in to input. Our devoted, experienced, and submitted nearby group endeavors to give a definitive fulfillment to our customers. We are dependably there to deal with every one of the administrations and to give as much adaptability to our customers to make their get-away adventurous, pleasant, and safe with us.
Ashmita Trek and Tours Recognized Tour Operator :
Ashmita Trek and Tours is registered and recognized Tours operator Trekking Company by Department of Tourism Govt. INDIA - West Bengal Tourism No : 395 – DT /1T – 91 / 2016 - and authorized to run trekking, hiking, climbing, expedition, cultural tours, homestay tours, village tours and trek, mountain biking Darjeeling tourism, Sikkim tourism, Nepal tourism, jungle safari, and all the tourism activities and we have fulfilled all the rules and regulations related in this industry and have paid all the liabilities and we have long-years national and international experience in the field of trekking tour and travel and many other outdoor adventure activities.
Ashmita Trek and Tours Recommended by Lonely Planet
Good news! we are pleased to announce that We have been recommended by Lonely Planet travel guide books A professional, efficient agency with knowledgeable guides highly rangket based on Adventure Outdoor Activities Trekking organizer for Nepal, Sikkim and Darjeeling Himalaya region.
Received Tripadvisor Certificate of Excellence Hall of Fame from 2015 - 2019
Good news! we are pleased to announce that Ashmita Trek and Tours is listed in TripAdvisor, the Trip Advisor is one of the popular independent travel portals and you can read our reviews who chose us to deliver a safe, exciting and truly unforgettable trekking and tours experience that they'll boast about for years to come. and has qualified of the Trip Advisor Certificate of Excellence hall of fame 2019 ! is esteemed to receive well-deserved recognition of yet another Certificate of Excellence of 2019. We take pride in holding the recognition continuously from 2015 to 2018 and now, to 2019. What a wonderful way to celebrate our decade long service in tourism!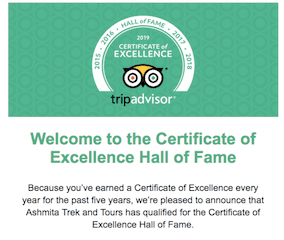 Our Values
Ashmita Trek and Tours has a permit under the Department of Tourism Govt of West Bengal (INDIA), the organization is represented by experts who have trek authority. The prepared group is completely committed towards our clients' administration who are HMI (Himalayan Mountaineering Institute) permit holders, progressively certain to give you the involvement in trekking in the place where there is the Himalayas. Our organization has become well experienced throughout the years and is profoundly certain to convey remarkable guidance to our clients all through their outing with no distress and hassle.
Our Experience
All our team members for tours and treks, are local, multilingual guides, ensuring the best possible knowledge of the area including historical, cultural, and heritage sites. Each guideis fully trained and licensed with experience in dealing with clients from all corners of the globe. They often note our tour and trekking guides as being one of the highlights of their holiday tour in Darjeeling, Sikkim, and Nepal. We love each of our clients -- from nature lovers to families from every walk of life. Our deep experience allows us to adapt to the wishes and needs of our clients to provide memorable trekking and tour adventures. All our efforts serve one single purpose: to make our clients happy! Our excellent service, with more than a decade of experience in the Himalaya region, is what we are most proud of. We organize customized and tailored holiday plans -- tours and treks -- as per your specifications and holiday needs.
Jobs for the local people
Ashmita Trek and Tours operate Trekking and tours with knowledge and experiences and all teams field staffs are local people, in the mountainous region of Darjeeling and Sikkim, who are acquainted with the local culture and lifestyle. for destinations like Nepal Bhutan, we have the local team from respective countries.
The best thing we do at Ashmita Trek & Tours is provide the local people with employment by hiring them on your trekking crew. Most of our field staff members are from the mountain villages surrounding Darjeeling, Sikkim, Nepal, and other places. This has made Ashmita Trek & Tours a 'salad bowl' of many ethnic groups in the Himalayas. They look different, speak different languages, and have different cultural backgrounds. Once outdoors, the differences melt away and what remains is just the spirit for adventure holidays.
Responsible Tourism
The purpose of our company is not only for the progress or benefit of itself but also in favor of the unemployed, to support them financially by using their trekking experiences as guides. The local porters have no regular jobs and most only depend on their work as porters. We strive to fulfill their needs by giving them the opportunity to work with us. Still, we are planning some more endeavors for the welfare of the Darjeeling and surrounding villages. If you are planning to visit the land of Himalayas with us, we promise to make your trip most excellent and memorable.
Eco-friendly Tourism
Eco-friendliness has become increasingly important for tourism sector. 'Eco-friendly' refers to the positive relationship between human and the environment. It means human should take good care of their surroundings. We focus on the term 'intent' on not creating harm to the environment and to prevent harmful aspects in the surrounding areas. As a responsible organization, our main aim is to operate eco-friendly tours and treks around the Himalayas by making people aware and encourage them to actively participate in environmental preservation and sustainable tourism. We are dedicated to preserve the beauty of the hilly region and to become an Eco-friendly travel company.