We, Ashmita Trek & Tours are a trusted and government-certified travel agency working in the travel/leisure industry for 15 years now. We are travel experts and provide adventurous packages in Nepal, India, and Bhutan. Our packages are precisely designed to offer a lifetime venture and unparalleled memories to our guests.
Ashmita Trek and Tours is a local company founded and managed by an enterprising local Mr. Subash Tamang. He has spent many years in the tourism business and worked as a trekking porter & guide in the Himalayas before establishing the company.
We are an eco-accommodating travel and trekking organization. We aspire to give the best travel experience to our customers as well as for local people since our beginning in 2007. We take care of all the legwork and pre-reservation to let our guests enjoy a stressless hassle-free venture.
Fully Accredited by Indian Tourism Board
We are registered under the department of tourism government India, West Bengal tourism. This means you are traveling with an authentic and trustworthy company by choosing us. We also have done all of our due diligence in Nepal and Bhutan too, to offer a smooth venture there as well.
Received Tripadvisor Certificate of Excellence Hall of Fame from 2015 to 2019
We are delighted to inform you that Ashmita Trek & Tours have been awarded the Trip Advisor's Certificate of Excellence Hall of Fame constantly from 2015 to 2019. Tripadvisor is one of the most popular and influential independent travel portals. You can read our trip reviews on their portal.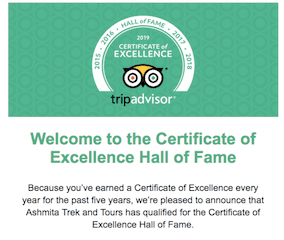 What a wonderful way to appreciate our more than decade-long service in tourism - Mr. Subash Tamang/Founder
Recommended by Lonely Planet
We are one of the top travel companies recommended by the Lonely Planet Travel Guide Books as a professional and efficient travel agency. We are highly ranked for our adventurous outdoor activities like trekking, climbing, and tours.
Expert Team
All our team members for tours and treks are local, multilingual guides, ensuring the best possible knowledge of the area, including historical, cultural & heritage sites.
Each guide is fully trained and licensed with experience in dealing with clients from all corners of the globe. We are often told that our tour and trekking guides are one of the highlights of our guest's holidays in Darjeeling, Sikkim, Bhutan, and Nepal.
All our team efforts serve one single purpose, to make our clients happy!
24/7 Support
From the beginning to the end of your venture, our travel consultants give you full support, from answering your questions to designing the itinerary (if needed). We will help you in the preparation of the journey and packing. Our team does all the reservations and obtains permits on behalf of you to make the journey hassle-free.
We are only one call away to make your dream holiday come true!
Safe and secure payment gateway
We have integrated a safe and secure payment gateway system into our site. You can easily place a booking through our site and pay for the trip. Your money is safe with us.
No hidden charges and full transparency of our policy
All of our prices are transparent, and we do not levy our guests with any hidden charges. Every penny they spend with us is explained. Similarly, our policies are clear and flexible. Check out our terms & conditions for more information.
Jobs for the local people
Our on-field team members are local people of the mountain regions of Darjeeling and Sikkim who are well acquainted with the local culture & lifestyle. For destinations like Nepal and Bhutan, we have a local team from our respective countries.
The best thing we do at Ashmita Trek & Tours is, provide the local people with employment by hiring them on your trekking/tour/climbing crew. Most of our field staff members are from the mountain villages surrounding Darjeeling, Sikkim, Nepal, and other places.
This has made us a salad bowl of many ethnic groups in the Himalayas. They look different, speak different languages, and have different cultural backgrounds. And above all that, our team members are very friendly & kindest people on Earth.
Once outdoors, the differences melt away and what remains is just the spirit of adventure holidays!
Responsible Tourism
The purpose of our company is not only for the progress or benefit of itself but also in favor of the unemployed, to support them financially by using their trekking experiences as guides. The local porters have no regular jobs, and most only depend on their work as porters.
We strive to fulfill their needs by giving them the opportunity to work with us. Moreover, we are planning some more endeavors for the welfare of Darjeeling and surrounding villages.
Eco-friendly Tourism
Eco-friendliness has become increasingly essential for the tourism sector. As a responsible organization, our main aim is to operate eco-friendly tours and treks around the Himalayas. To do so, we aware and encourage our guests to actively participate in environmental preservation & sustainable tourism.
We also make sure to leave only our footprints behind while traveling anywhere. We adopt several measures to reduce our impact while trekking in the Himalayas and visiting historical sites in the cities. Likewise, we also encourage our guests to not litter the trail and the tourist spots.