Annapurna Base Camp Trek in winter is an off-season trek. Because of unstable weather and unfavorable climatic conditions, trekking to Annapurna Base Camp in winter is usually not recommended. But this does not mean you cannot do Annapurna Base Camp Trek in this season.
For your information, Annapurna Base Camp Trek is a very popular trek in the Himalayas. The best time to visit Annapurna Base Camp is spring and autumn, which are usually crowded. Therefore, if you want to relish the adventure of Annapurna Base Camp Trekking in tranquility, then trekking in winter is a good alternative.
The early months of winter- December & January are more doable than the later months. We offer Annapurna Base Camp Trek 15 days which is an ideal itinerary to gradually trek and enjoy nature. If you want, you can also tailor-made Annapurna Base Camp Trek itinerary as per your requirements with us.
Annapurna Base Camp Trek in December
Annapurna Base Camp Trek in December is, of course, challenging, but the trekking experience you will get is unlike any other season. The Annapurna region sees fresh snowfall, and the environment has a distinct vibe of Himalayan winter.
The trek can get tough because of the snowy trail in December. The good thing is the snowfall is not heavy at the beginning of the winter so, the trail is not so strenuous. You will be trekking through dense forest, crossing frozen streams and suspension bridges. Similarly, the views of the white snow-clustered mountains are heavenly on clear days.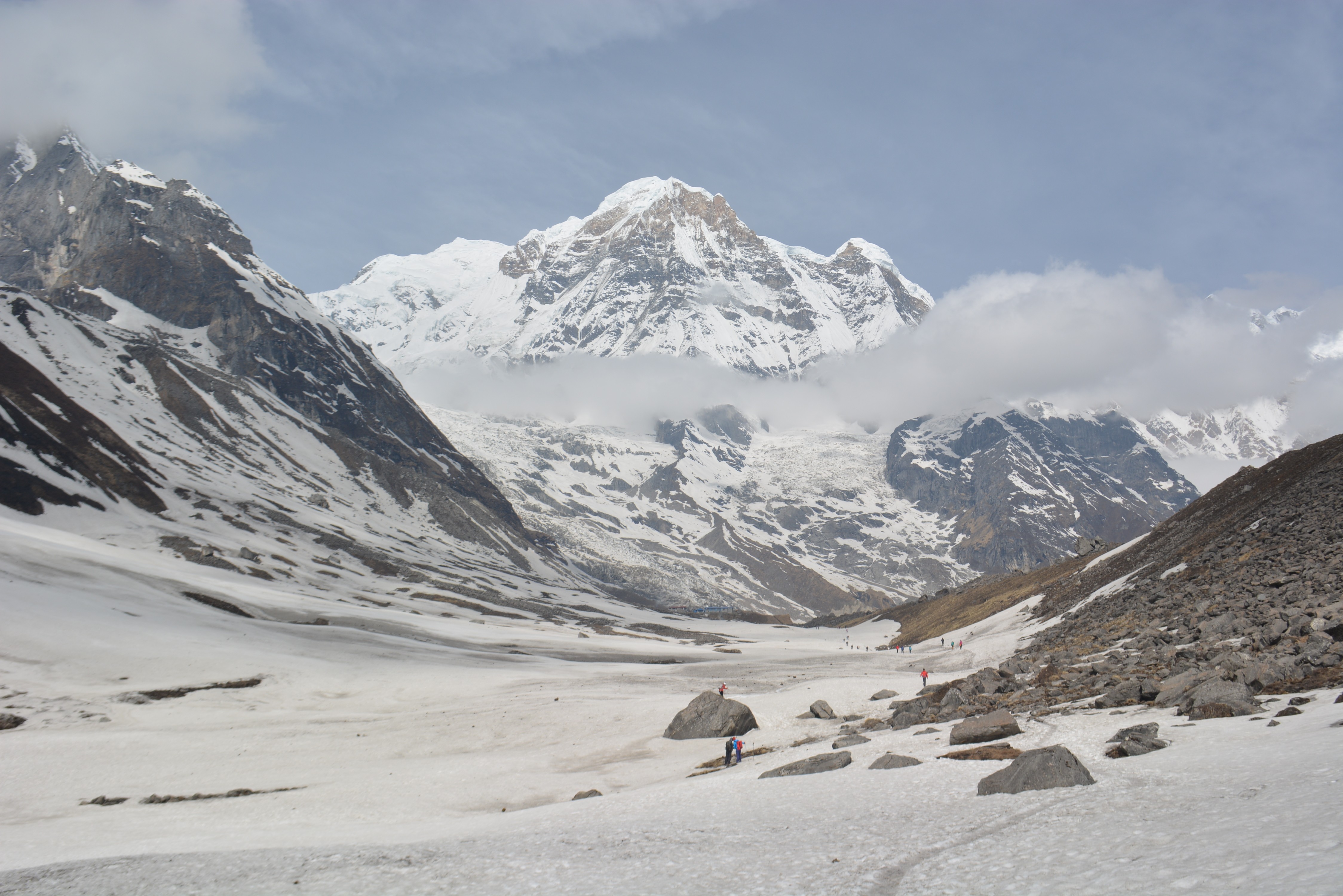 And how can we forget to mention the warm hospitality of the locals? You will be having local organic food and lots of long hours of chit-chatting with friends and loved ones around the fireplace, enjoying the warmth of tea/coffee.
Usually, the snowfall begins in the middle of September. There is no guarantee of stable weather, and the temperature can drop below -5°C.
Annapurna Base Camp Trek in January
Trekking in January means a lot of snowfall and extreme cold. You will barely see any trekker on the trail. There is no issue with rainfall. Most of the time, daytime has the warmth of the sun, which makes the trek somewhat comfortable. The mornings and nights are colder in comparison to the daytime.
The temperature ranges from 5°C to 10°C in the daytime and drops below -10°C at night. So, properly prepare for the trek and carry all necessary equipment to keep yourself warm during the trek.
The weather is unstable and can change at any time. Likewise, the views may or may not be clear all the time. There is always a chance of avalanches and snowstorms so be careful.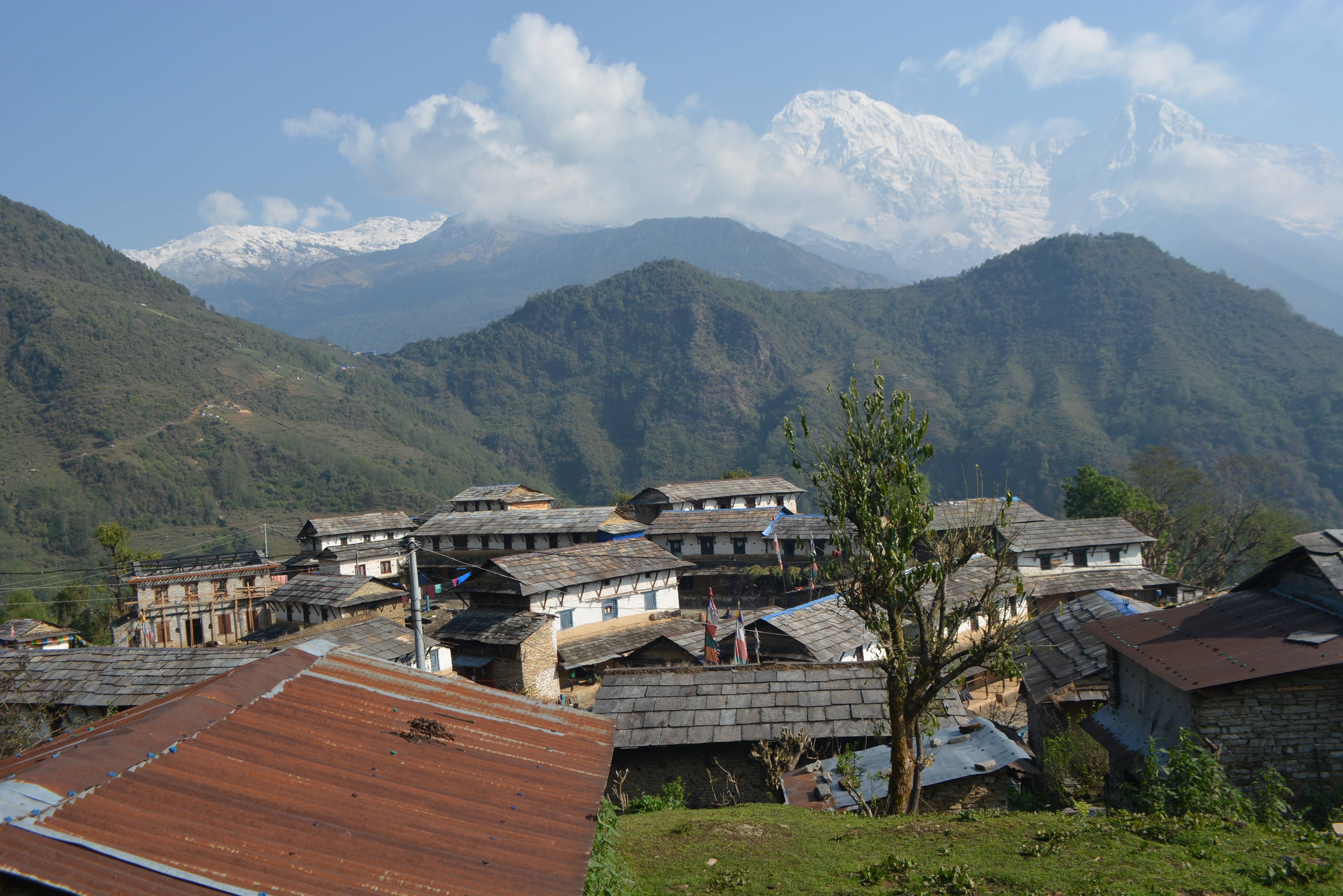 Accommodation
Because of heavy snowfall and freezing cold, half of the accommodations along the trail get closed in winter. There are only a few lodges and tea houses that remain in operation. Whatever the weather condition will be, you will get good hospitality.
Not many people trek in winter, therefore the trail will be relatively less crowded and there will be many options of accommodation among the open ones. You can also get a nice discount on the rooms. Do carry a warm sleeping bag because rooms do not have a heating system. The dining area is the warmest place in the lodge, so spend more time there and warm up yourself.
Food
Because of unstable weather, not all the raw materials reach the lodges on time, which means the food menu gets limited. The most common items you can get are dal bhat, soup, curries, thukpa, veggies, etc. Likewise, you may also get toast, porridge, oats, egg, tea, coffee, etc for breakfast.
Dal bhat is the most filling and affordable too. It will keep you running for a long time. Likewise, you can get warm drinking water to refill the water bottle in all the lodges or tea houses. Carry water purification tablets for more safety.
Attractions of Annapurna Base Camp Trek in winter
An adventurous trail through lush forest, stunning frozen streams, and snowy paths.
Get to see many winter vegetation and birds along the route
Gorgeous landscape and sunrise from Poon Hill.
Trek through picturesque mountain villages resided by locals where you can take a break to enjoy some hot tea and see a glimpse of the daily lifestyle of the locals.
Less crowded trekking trails, perfect for peace lovers.
Enjoy breathtaking views of the Himalayan mountains throughout the trek.
Reach the lap of the world's tenth highest mountain, Annapurna Base Camp
Enjoy a natural hot spring in Jhinu Danda.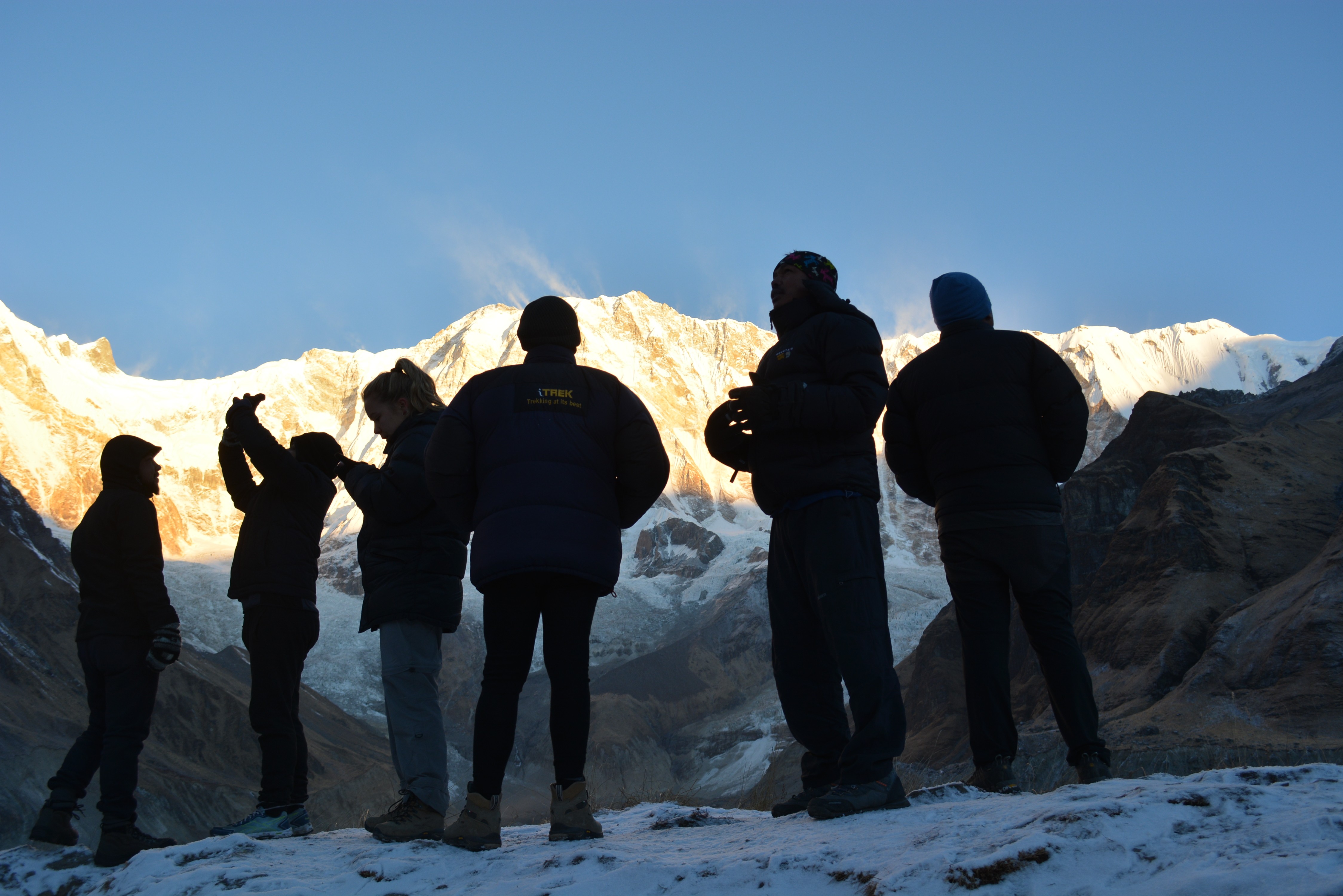 How to reach Annapurna Base Camp in winter
You will be following the same route to reach the Annapurna Base Camp in winter. Annapurna Base Camp height is 4,130 m, which is a high altitude. Our Annapurna Base Camp trek itinerary in winter is 15 days. You will be following the below route during the trek.
Outline Itinerary of Annapurna Base Camp Trek
Day 1: Pick up from Tribhuvan International Airport and transfer to hotel
Day 2: Kathmandu sightseeing tour and trek preparation
Day 3: Drive to Pokhara by tourist bus; 6 hours
Day 4: Drive to Nayapul and then trek to Ulleri (1,960 m)
Day 5: Ulleri to Ghorepani (2,750 m); 5-6 hrs
Day 6: Climb to Poon Hill (3,200 m) and trek to Tadapani
Day 7: Tadapani to Chhomrong (2,210 m); 5 hrs
Day 8: Chhomrong to Bamboo (2,310 m); 4-5 hrs
Day 9: Bamboo to Deurali (3,140 m); 3-4 hrs
Day 10: Deurali to Annapurna Base Camp (4,130 m); 5-6 hrs
Day 11: Annapurna Base Camp to Bamboo (2,345 m); 6 hrs
Day 12: Bamboo to JhinuDanda (1,780 m); 5 hrs
Day 13: Jhinu Danda to Nayapul and drive back to Pokhara; 5 hrs trek & 1 hour drive
Day 14: Drive from Pokhara to Kathmandu
Day 15: Farewell
Trekking Tips for Annapurna Base Camp Trek in winter
Begin trekking early to reach the next accommodation on time because the day begins to get shorter.
Get a comfortable backpack that you can carry while trekking.
Properly pack all the warm clothes like a down jacket, gloves, woolen hat, woolen socks, trekking boots, and other layers.
Buy or rent a high-quality sleeping bag.
Keep drinking water as much as you can and consume plenty of other fluids to keep yourself hydrated. It will help you to avoid altitude sickness.
Do not drink any kind of alcohol or smoke because it will dehydrate your body and raise the chances of altitude sickness.
Stay updated with the weather and check the forecast multiple times during the trek.
Walk slowly and carefully. In case of any uncomforted, inform your guide. Do not go off track and always walk on a cliffside.
Annapurna Base Camp Trek preparation for winter
You at least have to be healthy and fit to go on the Annapurna Base Camp trek in winter.
Do hiking or other activities like cycling, running, or swimming to increase your stamina.
You can hit the gym and focus on increasing your core body strength.
You have to make yourself able to walk 6 to 7 hours a day carrying a light daypack.
Meet your doctor and get medicines to control headaches, altitude sickness, or other common illnesses.
Make sure to double-check all the clothing and gears before the beginning of the trek.
Documents required for Annapurna Base Camp Trek in winter
You need to get ACAP (Annapurna Conservation Area Project) Permit and TIMS card to go on the Annapurna Base Camp trek in winter. You can get these permits from Nepal Tourism Board in Kathmandu. Do not trek without a permit because you will get a penalty if officials do not see it at the check posts.
ACAP permit cost for foreigners: 3,000 NRS (Approx. USD 30)
ACAP permit cost for SAARC nationals: 200 NRS
TIMS card cost: 1,000 NRS (Approx. USD 10)
Final Note
With the help of a professional guide and porter, Annapurna Base Camp Trek in winter is possible. Of course, due to cold weather and snowfall, the trail will become more difficult than during peak trekking seasons.
Trek to Annapurna Base Camp Trek with us in winter. We will make sure of all of your needs and keep you safe on the trek. Our reliable guide and years of experience make an ideal trekking partner to traverse in the off-season.
Get in touch with us anytime to book Annapurna Base Camp Trek in winter. Check our other informational blogs here.