10 Best Places to Visit in Sikkim
Rumtek Monastery :
The monasteries of Sikkim are among the most famous and magnificent in the world. Rumtek Monastery (also known as Rumtek Dharma Chakra Center) is undoubtedly high on the list. It sits high upon a hill, across the river from Gangtok (about 22km away). The steep road leading up to Rumtek is dotted with souvenir shops and snack shacks. Then, behold the temple, which is surrounded on all sides by the monks' living quarters. Stepping into this complex, noise seems to disappear and you become entranced by peace and serenity of the area. The best time to visit is during the prayer time, when the monks join in chanting, blowing the Tibetan horn, and rhythmically hit their two-sided drums. It is an incredible once and a lifetime experience to see and hear this! Afterwards, head to the café for a cup of coffee or a plate of veg momo's. It is an all-inclusive place with a monastic college, retreat center, rare and coveted texts, and the 500 year old Golden Stupa. Visiting Rumtek Monastery is a must on your visit to Sikkim.
Rumtek Monastery is easily accessible from Gangtok. Shared taxis are available on the main road underneath MG Marg. Also, we coordinate visits to Rumtek Monastery on our tours of Sikkim. Check out our Tours in Sikkim page for more details!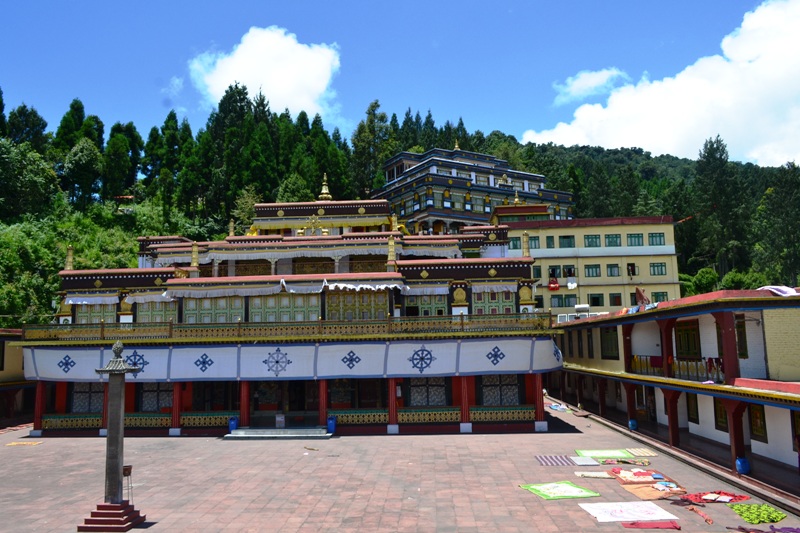 Rumtek Monastery in Sikkim
Enchey Monastery :
The quiet place of spiritual solace has lots to offer. Though it is smaller and less architecturally fascinating than Rumtek Monastery, many say that the spiritual feeling is stronger, more visceral, at Enchey Monastery. Legend has it that Lama DhrupthobKarpo, a beloved lama and tantric, founded the monastery in 1840. He was thought to have supernatural powers, including the ability to fly.Nestled in a forest on a hill, the placeblesses visitors with both spiritual and natural charm. The modest monastery is sure to enchant anyone that visits. During prayer time, find men of all ages (even young boys) reciting incantations of sacred Buddhist texts. The chanting puts you in a trance, and the rest of the day you may just end up in a deep state of contemplation and self-reflection.
Enchey Monastery is a scenic walk or a short taxi ride from the center of Gangtok. For anyone who wants to be spiritually uplifted, Enchey Monastery is your best bet. If you can come during the monastery's days of special prayer and festivities, you certainly should! They happen during the 18th and 19th days of the 12th lunar months of the Tibetan calendar, which fall sometime during January and February each year. Watch as colorful, masked monks dance to vibrant music! Ask us at Ashmita Trek & Tours for more information!
Tsomgo (Changu) Lake :
At 12,400 feet, this pristine alpine lake is best natural wonder to visit in East Sikkim. Tsomgo Lake takes about 2 hours to get to from Gangtok. Enjoy the scenic drive up – it's part of the adventure! Upon arrival, you will be blown away by the sheer beauty of the crystal blue waters, which lead up to the steep, rocky mountain's edge. The lake is considered sacred by locals, made clear by the prayer wheels and shrine to Lord Shiva near the shore. Find some solitude and take some deep breaths. The glacial lake has a strong spiritual vibe, noted not only by locals, but also those visiting Tsomgo Lake for the first time.
Regardless of the time of year you visitTsomgo Lake, the scenery is spectacular. In the winter, the lake becomes frozen and the surrounding rocky hills have a light layer of snow – a picturesque winter scene. During the spring and summer, colorful rhododendrons, poppies, primulas, and irises begin to brilliantly bloom. In the fall, crisp mountain views can be seen in the distance. Check out our Tours in Sikkim page and experience the supreme beauty of Tsomgo Lake!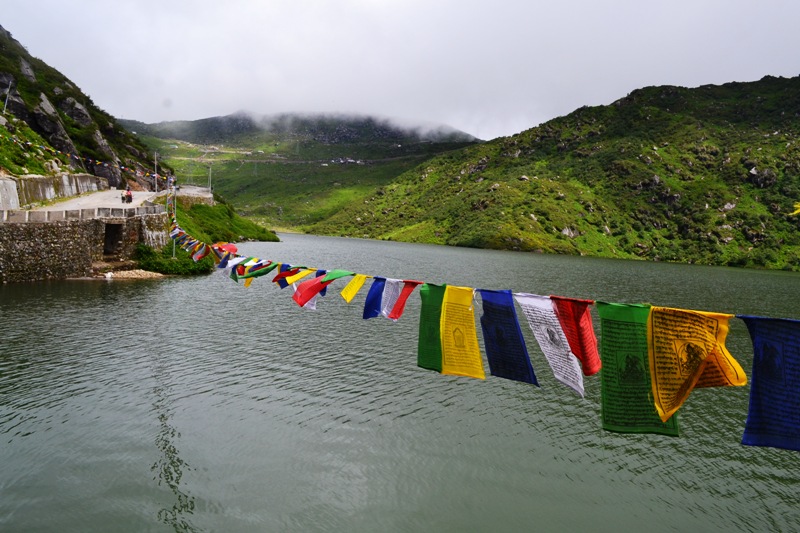 Tsomgo (Changu) Lake
M.G Marg :
MG Marg (Mahatma Gandhi Road) is without a doubt the 'happening place' of Sikkim. It might sound cheesy, but while walking on MG Marg, there is the feeling that you are at the center of the universe. Maybe that's because it is so easy to be fully present in the moment here.
MG Marg is the perfect place to enjoy a coffee or beer and enjoy the fresh air. It the epicenter of shopping (and simply hanging out) is lined with bars, cafes, travel agencies, and restaurants. Gangtok's best restaurants are found here. Grab a table on the side of the street or overlooking it and enjoy the scene.
You might think that the place is crammed with people and cars, but luckily MG Marg is a vehicle-free, pedestrian-only zone. Also, it is illegal to litter and smoke on MG Marg making it a clean, chilled out place to hang out. Sitting on a bench and watching passerby's is a favorite activity and is more entertaining than you might think. Any visit to Gangtok is incomplete without a visit to its town center. Come to Gangtokwith us and take a stroll on MG Marg!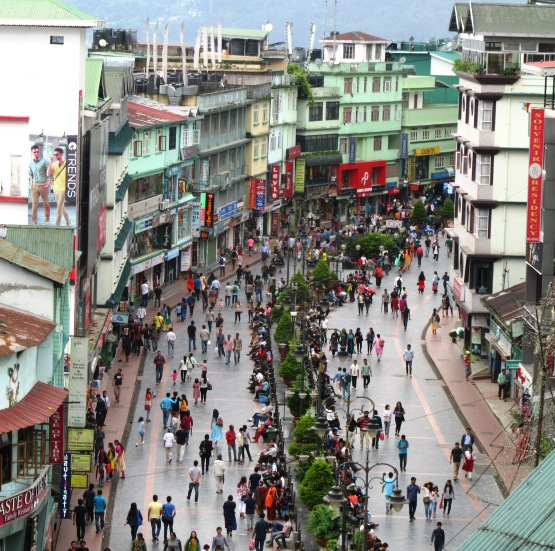 MG Marg in Gangtok
North Sikkim :
This large northern district is the reason why most people visit Sikkim. North Sikkim is the best place for adventure and outdoor excursions in Sikkim. Be constantly in awe at the pure beauty of the area. Explore the untouched areas, including the spiritually significant Gurudongmar Lake, the spell-binding Yumthang Valley, and the culturally fascinating Dzongu area. Gurudongmar Lake is considered sacred by Hindus and Buddhistsalike. At 17,100 feet, it is one of the highest lakes in the world! Far above the tree line, Gurudongmar Lake is surrounded by majestic baren meadows and towering Himalayan peaks. Yumthang Valley has lush meadows, cascading waterfalls, and bright flowers during the springtime. A wall of rugged peaks encompasses the area. Dense forests house a variety of awesome wildlife. There is so much to explore in Yumthang Valley that you will be wishing you could stay longer. Dzongu is a protected area, home to the culturally rich Lepcha people. Explore the small, alluring villages of the area and learn about the fascinating local culture!
I've only mentioned three of the dozens of magical places to visit in North Sikkim. You will have to come see the rest for yourself! Check out our Adventure Tours in Sikkim and Trekking in Sikkim pages to see the incredible experiences that we offer!
Yaksum west Sikkim :
The historical town is a gem in West Sikkim. Established in 1642, Yaksum used to be the capital of Sikkim. The long, rich history is being continued by the culturally distinct Bhutias, who make up the majority ofYaksum's population. For trekkers and adventure lovers, the town is notable because it is the gateway to Kanchenjunga National Park and a starting point for many treks.
Yaksum also has a power spiritual significance. The area has many Buddhist monasteries, each resting with a unique perspective of the gorgeous countryside. Some of these monastic centeres, including Dubdi Monastery, are several hundred years old! Also, nearby Yaksum is Khecheopalri Lake, the largest lake in Sikkim. Originally known as Kha-Chot-Palri, meaning the heaven of Padmasambhava, the lake is revered as sacred by both Hindus and Buddhists. The religious coexistence is beautiful to see and experience. It is said that if you visit Khecheopalri, your wishes will be granted. The best time to visit is during the two-day festival that happens during March or April (depending on the year), where hundreds of pilgrims come to pay homage. A ritual takes place where hundreds of butter lamps floating atop bamboo boats on the lake. It is quite a mystical experience!
Take our Sikkim Kanchenjunga Goechala Trek or our Darjeeling & Sikkim Authentic Cultural Tour to experience the allure of Yaksum firsthand!
Pelling West Sikkim :
Pellinghas recently emerged as a favorite tourist destination in West Sikkim – and rightfully so. The beautiful hillside town is known for its incredible monasteries and pristine natural landscape. Pemayangtse Monastery is the most famous destination. The scenically located monastery was founded by Lama LhatsunChempo in 1705, making it one of the oldest in West Sikkim. Tashiding Monastery is another mesmerizing stop that welcomes visitors with its unique architecture and crisp Himalayan backdrop. The serene location is a prime place to meditate and enjoy some peace and quiet. Paying homage to the monastery, it is believed, will cleanse you from your sins.
After exploring the captivating monasteries, discover the scenery surrounding Pelling. The area is lined with waterfalls, alpine vegetation, precious rolling hills, and most notably, marvelous views of Kanchenjunga, the third highest peak in the world. About 28 kilometers from Pelling lies Kanchenjunga Falls, one of the most beautiful waterfalls in Sikkim. Refresh yourself with a bath in these refreshing waters.
Spend a night or two in Pelling on your visit to Sikkim! Check out our Sikkim Kanchenjunga Goechala Trek or our Darjeeling & Sikkim Authentic Cultural Tour to encounter the beauty of Pelling for yourself! Contact us if you have any questions.
Ravangla South Sikkim :
On the way to Yaksum and Pelling lies this little town with a peaceful ambience and sensational mountain views. People are just starting to take notice to Ravangla, which before had simply been a drive-through as people drove further into West Sikkim. For those who make the stop, you will be pleasantly surprised. The main attraction is Buddha Park, a gorgeous garden with a massive 130-foot (40 meters) statue of Buddha as the centerpiece. An unmatched view of the Himalayas exists as the backdrop. Driving by Buddha Park on your way to West Sikkim, you just have to stop, snap some photos, and recognize the greatness of this spot. Nearby is the Ralang Monastery, an enormous monastic center with a powerful spiritual atmosphere.
Ravangla is also a bird watcher's paradise. Multicolored Himalayan birds of all shapes and sizes make their home in the forests around Ravangla. Spend a day in the forest and you will see assortments of birds that you never knew existed. See brilliantly colored feathers and hear unique calls that you have never heard before! Ravangla is a perfect place to lose track of time and just go with the flow. Join us on our Tours in Sikkim and relax in Ravangla!
Namchi South Sikkim :
Visit Namchi – the town of massive religious statues and temples, lively plazas, and natural beauty. Many tourists do not consider making a trip to this charming town in South Sikkim, but those who do often do not want to leave! In fact, many visitors extend their trip for at least another day in Namchi. After checking in at your hotel, take a stroll in Central Park, a clean, peaceful plaza lined with shops and restaurants, and a spouting fountain in the center.
After you've explored the city a bit, drive to the town's edge and pay homage to the spiritual superstructures: Guru Padmasambhava Statue and SolophokChardham. The former lies atop Samdruptse Hill. Samdruptse, meaning'wish fulfilling' in the local Bhutia language, is a most holy place. The colossal 120-foot tall statue of Guru Padmasambhava is the main attraction of Namchi and is in fact the largest of its kind in the world. On another nearby hilltop lies the Char Dham complex, a famous pilgrimage destination with yet another towering religious statue – this time of Lord Shiva. The religious piety of visitors to these spots is truly inspiring.
After the two mesmerizing Hindu and Buddhist icons, you must check out the Shirdi Sai Baba Mandir. The dazzling complex shocks visitors with its sumptuous design and ornate architecture. It is a palace-like building with a large prayer room, and elaborate murals, and of course a large statue of Shirdi Shai Baba. Come visit Namchi with us on your wonderful trip to Sikkim!
Zuluk East Sikkim :
Surely you have seen the iconic photos of the winding roads that zigzag across the steeply sloped hill in East Sikkim. Do an internet search of Zuluk and you'll recognize the image immediately. The unbelievable weaving switchback road leads to and through Zuluk, a hilltop transit point for the ancient Silk Road. The several dozen hairpin turns are an engineering feat and a doozy to actually drive through. Getting to Zuluk is half the fun.
Zuluk(10,100 feet) itself is a precious mountain hamlet that lies on the side of this incredible road. Only about 700 people reside here and get to enjoy the privilege of waking up to stunning views of Kanchenjunga and surrounding Himalayan peaks 365 days a year. Watching the sunrise from Thambi Viewpoint (11,200 feet) is a highlight of visiting Zuluk and must be taken advantage of. Watch the first glimmering rays of sun shine on the world's third highest peak and other towering mountaintops. Then, head down to Nag Temple, which has a mysterious cave-like structure. The temple honors the deity of King Cobra, or Nag, a Hindu mythological god.
You need to acquire a special permit to visit Zuluk, which we are happy to arrange for you. Contact us at Ashmita Trek & Tours for more information!