Experience from my Sikkim Trip the sky of Himalaya !
| Posted by Sylvain bernouis | March 25, 2019 |
---
My name is Sylvain, I'm 32 and I come from France. I took a sabbatical year to travel and I planed to stay 3 months in India. Initially, I didn't plan to go to Sikkim but after 2 months in the hot Rajasthan I wanted to breathe and I was missing mountains. I heard that Sikkim was a quiet place and a paradise for trekkers. We were in March, the beginning of the good season to trek. Mountains are my dream and I was so happy to find them! I choose Ashmita Trek and Tours to do the Singalila trek. I felt immediately good with Subash, the Managing Director and my trek was wonderful with a precious guide, Binod. Without him, it could have been very dangerous. And when I came back to the agency, I only wanted one thing: go trekking again! Subash was very kind with me and he provided me another jacket (better for a lower altitude) and the sticks…for free! With all this equipment I was ready to face the Sikkim!
This Darjeeling Singalila trek was a dream. I had a good weather in the whole, I crossed beautiful landscapes, I used to sleep and eat in very nice homestays, learning about people way of life in Sikkim. I had a wonderful view on the Lord Kanchenjunga several times and I even saw the Everest with the Makalu and the Lhoste around it! Four of the fifth highest mountains in the worlds, that's very good in one trek! So this trek let me a real footprint, I wanted to discover more in this incredible part of India. And I was in a very good condition, mountains give you the strength you need. So I left Darjeeling to Sikkim.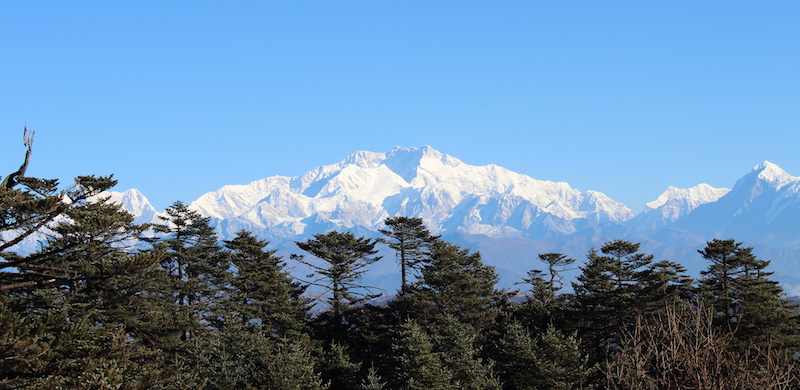 Mount Kanchanzonza view from Darjeeling
Sikkim. This state is covered by a lot of mountains and the most popular is the Kanchenjunga, the third highest mountain in the world. We can already see it from Darjeeling it's magical. In Sikkim, you can find a lot of little villages with sinuous roads and strong rivers. It's the paradise for the trekkers and there are less people than Nepal for example. You can find typical food here (momos, tonkthu…) and the people feel less stress than in the rest of India. Here you can take your time to relax, tasting the famous tea of Darjeeling. Let us go!
My travel Itinerary for sikkim :
Day 1: Sikkim or the paradise of the trekkers
I first arrive at Gangtok which is the principal city of Sikkim. I made the permit to enter at the border but it's easy to make it. The road was long and difficult because we were 9 in a jeep but very nice with impressive landscapes so differents from those of my far country. Gangtok made me a very good impression: it's a rare city of India which has got a walking road without any tuk-tuk or car! And it's a pleasure to walk with no stress and no horn! I am surprised because Gangtok looks like a European city with all its shops. It reminds me a little my country. Moreover, the city is very puppy and it's hard for legs! But a good souvenir.
The next day I go to the Rumtek Monastery (buddhist), after un long climbing road. Here I find silence for introspection and I attend to an office with buddhist monks. It is good to take time and read the taught of the Buddha like those ones: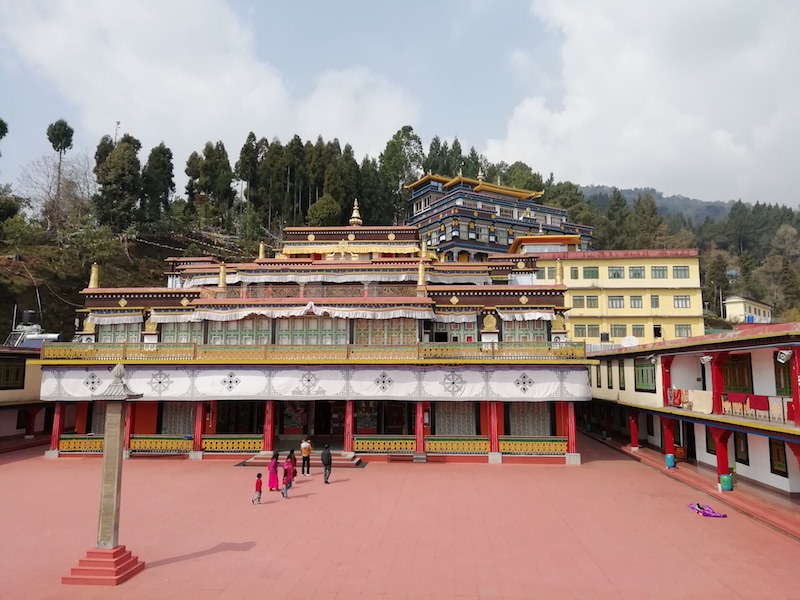 Rumtek Monastery in Gangtok
"You are what you were, you will be what you are"
Or
"Lead on what helps you to follow your way and throughout what stops you"
Sentences to help you to change your mind and your vision of the world… Sure many people should take time to think about it.
I follow my road for 3 hours to the west to Ravangla where you can see a big Buddha in his park. This construction shows the faith of the people of this country, we haven't built those things in France since a long time… Very impressive built. In Sikkim, I see lot of people who take time to go to temples. I only sit and see them without saying anything. Sometimes I can share a moment with them and I fulfill of these moments. On the afternoon I arrive at Pelling, a nice little village at more than 2000m of altitude! The nights are cold but I don't meet snow luckily. It is a place where I meet more Indians tourists than Europeans ones. There you have a great view on the Kanchenjunga. But I won't see it because the weather is so cloudy in these days. I go to the Pemangyatse monastery for a quiet moment of meditation.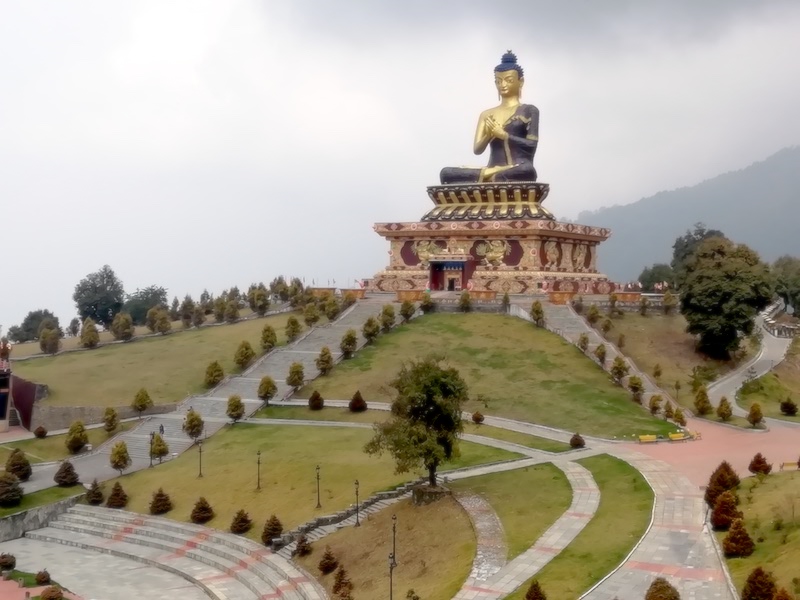 Ravangla Buddha park
Day 2: Khecheopari Lake in the middle mountain
Pelling is the beginning of the trek of Buddhist monasteries between villages on the Sikkim. It is the best way to discover how people live. I start alone but after only one hour I meet bag packers from Italia, Romania and Spain like me who make the same trek. That's very good news, I'll be able to share experience of India and Sikkim. We go down by a long way of steps and we cross giants fields of cardamom, I didn't know that Sikkim was so nice! We see people working hard in this fields, carrying impressive things. We take time to talk with them and to share a moment. Sure people are open here, not shy and happy to speak with strangers and to show their lives and their houses. On the middle of the day, we make a stop at the Kanchenjunga waterfalls. In fact, there are 2 waterfalls, one is powerful and the other is very high, we can't see its beginning! The first day finishes at Khecheopari Lake (1700m) after 5 hours of walking and everybody is happy to arrive. We find 2 others bag packers and one of them is discovering Sikkim by bicycle! It seems so crazy for us because of the height difference and the hard roads but he shows us it's possible! It's an Italian who lives only 2 hours from at the border between France and Italy! We exchange our phone numbers. It is so funny so meet a neighbor far away from home here in the Sikkim!
We all find differents places to stay without any problem. We pass the evening together talking about India, our own trip, what we feel, it is so good to share my experience, I will remember these moments and it is often possible in mountains treks because there is a special atmosphere that brings closer. There is a particular ambience around this green lake. You can go to a higher point to see the whole lake. The village is so little with its temple, and no more than 10 or 15 houses but it's enough for us! Some of us feel very good here and decide to stay one or 2 days more. Sure we could stay all the life here! People are very welcoming here, we can stay a long moment of the night talking...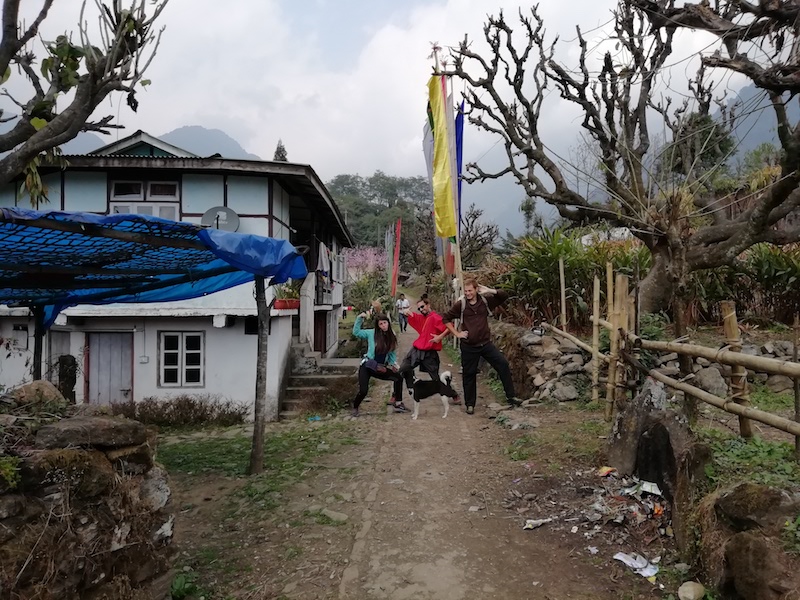 Yuksoom Village
Day 3 and 4 : Yuksam, the beginning of the Gochela trek
Today we are only 4. Yuksam is not so far from here but it will take time because of the height difference. We follow our road still in cardamom fields, crossing rivers with bamboos bridges. The Italians are always speaking and never tired! We take some short cuts but the main part of the way is on the road, but it's not dangerous because there are not so much cars. We arrive at Yuksam after 5 hours. Yuksam was the first capital of Sikkim. It is still the beginning of the Gochela trek (and the Dzongri trek) who goes near the Kanchenjunga at nearly 5000m of altitude! It must be exceptional and I know Ashmita Trek and Tours can organize it. But it is not the best season because there is too much snow now and we can't do it in the best conditions. Maybe one day, I will return here and we will do it, who knows…
We feel good in the village. We visit several monasteries and the little lake and decide to stay one more night, this place is so nice! The Italian guy we met yesterday told us we can walk a little walk on the beginning of the Gochela trek. So here we go the next day we discover an impressive forest with still bamboos bridges and beautiful waterfalls. We meet some guides who go down to the valley with horses and yachts carrying a lot of things. I know there are several villages higher than here with no road except this one by walking. I imagine the procurement must be very hard, impossible sometimes with the bad weather, people are so courageous so live there! Here in Sikkim we feel out of the world, we have no news of abroad and from our family, no wifi, it is a good thing for some days. Here we can take energy from the mountains. We will come back to the valley with a lot a beautiful pictures in the head…
Sikkim Goechala Trekking
Day 5 and 6 : Tashiding and the end of the trek
This last day is very long: we walk while 8 hours and arrive at Tashiding with the night. But we see again the wealth of Sikkim with 3 monasteries: Dubdi where we take a long stop under the sun (we don't want to start again!), Hungree which is rehabilitated and Sion. In Hungree where we make the half-stop of the day, we don't have any food and there is no restaurant or homestay. But people are very kindly here: they provide us food and tea for free, they don't want any money! We are so happy to have something to eat. We give some donation after, that's important and I hope it will help a little to build again the monastery. In Sion, the monastery is closed but there is a school near and the children propose us to open. Perfect, we don't need more! We pass quiet moments in it.
From the monastery, we see Tashiding and tell us it won't take more than half an hour. But the descent is hard for the legs and very long, we will take more than one hour. And we have to be quick because of the night! We find hospitality in a little homestay which owner is very sympathy, she offers us some cup of tea. A little dinner in a little restaurant and a big sleep.
In Tashiding, there is also a beautiful monastery at the top of the little mountain. We go there the next day under the sun who is coming back, with the warm. In the site of the monastery, you can find some gompas. We attend at a Buddhist office in the temple, we are lucky! There is green grass around so we can walk without shoes and that's very relaxing. 2 of us decide to stay one more night in Tashiding and with the last bag packers we come back to Pelling because we have to take some clothes we let there. We take a sharing taxi to Geyzing and finally to Pelling. I love this village and decide to stay one more night here because it is my last night in Sikkim and I want to enjoy. I take time to go to visit the Buddha park who looks like the Ravangla's one, always impressive with its sky line. Near you walk a little moment to a the quiet Sangacholing monastery.
Tashiding monastery
Day 7: Darjeeling, the Queen of the hills
It is hard for me to come back to Darjeeling because I have to take 5 sharing taxis and a long part of the day. Specially the road before Jorethang near the river is very hard and destroyed because of frequents landslide! But when I arrive in Darjeeling, I feel immediately good. There is something special in the air, I don't know why… Moreover, we can see the Kanchenjunga the next morning! It says me goodbye and good luck for the rest of my trip!
Darjeeling was chosen by the British to be the city where they stay in summer because it is too hot in the plain of Calcutta. And it seems that the climate is good for health here. Darjeeling is very famous for 2 things: its tea which is one of the best of the world. You can see a lot of plantations on the mountains and a lot of people live of this economy. The second thing is the Toy Train, the smallest train of the world who goes from Siliguri to Darjeeling (Darjeeling Himalayan railway which is part of UNESCO and declared as a World Heritage Site). And incredible travel of one day climbing up slowly and taking time to see the landscape!
I take time in Darjeeling, I find a good familial restaurant and nice homestay at the top of the city where I have the view on the Kanchenjunga! In the city, I visit the Himalayan Mountainering Institute which is very interesting for me who love mountains ! I can discover the history of the conquest of the Everest and I am very impressive by the basic equipment they had at this times. It seems so unreal… The highest mountain of the world was climbing at his top the first time in 1953 but the British Edmund Hillary and the Nepali Sherpa Tenzing Norgay (the 29th of May, for his 39 years old!). You can see his tomb in the court of the museum and a statue of him at the initiative of Edmund Hillary (Tenzing Norgay died in 1986). It is a moment of emotion for me. I think all lovers of the mountains should go there!
Here is the end of my adventures in the Sikkim. The next day, I go to Siliguri in the valley to others dreams. Sikkim learned me a lot of things and I met great people there. I am a little sad to leave it because I stayed nearly 20 days here and I felt like at home in these mountains! Maybe one day I'll come back here…